Last week Ofcom released their annual Communications Market Report (CMR) and some of the statistics made for pretty interesting reading, so we thought we'd delve a little deeper into what some of the numbers mean for the telecoms industry.
As an overall figure, telecoms revenue declined by 1% to £35.6 billion, contradictory to the slow growth that had been seen in the previous two years.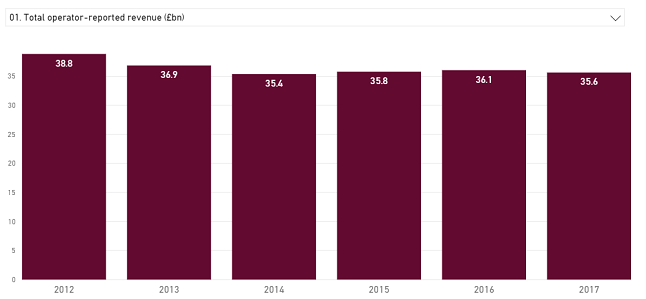 So what's going on? Let's take a look at some of the figures in more detail...
One of the statistics that stood out to us is the fact that the number of fixed voice calls minutes is steadily continuing to decrease, falling 17% to a total of 54 billion minutes last year - compared to almost double that back in 2012!
Meanwhile, although mobile call minutes had been slowly but surely increasing through the years, their numbers also showed a drop last year - though this wasn't nearly as extreme as the fixed call stats, with the figures dropping from 151.2 billion in 2016 to 148.6 billion in 2017.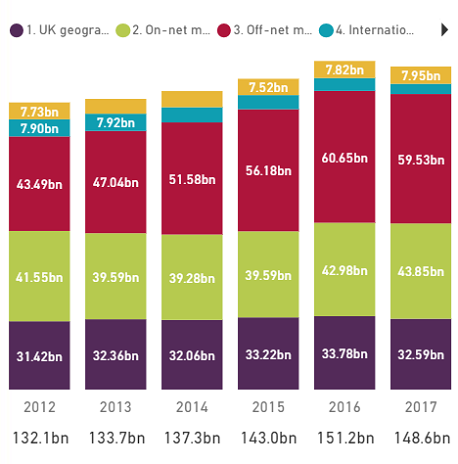 Of course, it's too soon to say whether this is going to become an ongoing trend, but it will certainly be an interesting figure to keep an eye on over the next few years.
Another interesting and perhaps unexpected trend is the steady decline of SMS and MMS messaging, which has continued into 2017: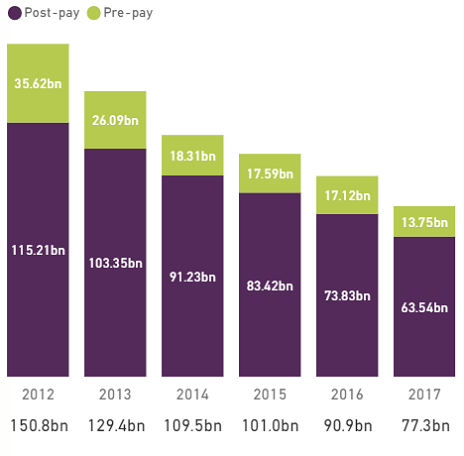 So if people aren't talking on the phone AND they're texting less, are they simply not communicating as much? Of course not, so there must be another explanation.
The answer may be revealed when we look at the statistics for data use. The figures for both fixed broadband and mobile data have been growing exponentially, with fixed broadband data rising to an average of 190GB per month and mobile data use rising to an average of 1.87GB per month.
It makes sense when you think about it. The last few years have seen the rise of joint messaging and call platforms like Messenger and WhatsApp and as a result, people have been choosing more and more to communicate with each other online - both in personal and business situations.
But what does this mean for us? It's clear that if traditional telecoms solutions continue to decline, the industry cannot begin to stand still. We have to keeps evolving to cater to these new technologies and the demands that come with them.
There are a lot of details to delve into in the CMR, so we've just picked out some of the biggest and most important statistics for you! If you want some more detailed breakdowns, the results of the report are free for anyone to access so now that you're done here, grab a cuppa and have a read.
Charts - © Ofcom